I am proud to announce my newest designation as president elect of the American Master Chefs Order. As some of you may already know, I enjoy being as involved as I can in my craft and in this ever changing industry. Passing the Certified Master Chef exam in 2012 was a life long goal and something I am very passionate about. A few years ago, Certified Master Chef Bill Franklin's vision of bringing all the master chefs together to collaborate, reconnect and build was made a reality by the founding of The American Master Chefs Order (AMCO). As I begin to share more about our mission and my own involvement with the AMCO, I wanted to provide a quick summary of what we do and why we do it: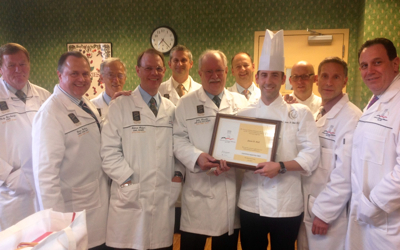 ---
The American Master Chefs' exam is, considered by professional peers the world around, one of the most arduous. The exam was first commissioned and offered in 1981.
---
Over the years, of the several hundred Chefs who have qualified to take the exam, to-date, only approximately seventy candidates have succeeded! We are a very proud, small and unique fraternity with great concern for the future of our beloved craft.
---
To Sustain
The Classics of our craft are constantly under pressures from both outside and inside to change and remain relevant to the industry they serve. The members of AMCO want this to happen with measured wisdom.
Promote
The Master Chef and AMCO brand is coveted within the highest levels of our industry's channels. We offer one on one candidate assessments, group workshops, and seminars.
Perfect Our Craft
American Master Chefs serve as leaders, advocates, and mentors within our craft. We keep the bar of craft execution higher than industry norms or general expectations might otherwise settle for within our craft.
---
I look forward to growing our brand.