Three Golds for Culinary Team USA 2016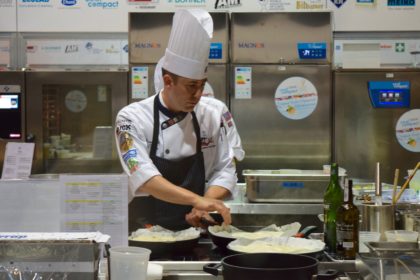 ---
     Jason Hall CMC, Executive Chef of Myers Park Country Club has essentially been pulling double shifts for the past four years. Spending every additional minute outside of work planning and preparing for the Culinary Olympics, Chef Hall has done what many chefs can only dream of; bringing home the gold and reigning supreme over 59 countries in The Cold Food/Culinary Art Category.
     The Culinary Olympics, more formerly known as the Internationale Kochkunst Ausstellung, or IKA, was held in Erfurt Germany October 22nd-25th. This extraordinary event is held once every four years, allowing each nation time to choose their best chefs to represent their country, build a menu, and practice their program to perfection. It is one of the highest honors for any chef to represent their country and industry in this highly competitive event; being the largest international professional competition of it's kind.
     A remarkable challenge for Team USA is that they are unable to dedicate as much time into their program as other countries. There are quite a few countries that allow their chefs a paid sabbatical to leave their jobs and focus full time on their programs. Chef Hall and his team truly outshine the rest as they could only meet one weekend of every month at most. To not only compete against these other countries, but also score higher than them, shows an incredible amount of passion, dedication, and focus.
     Of course, a good luck charm is never a bad idea when competing. Hall brought his mother's 40 year old wooden spoon to cook with during the team's Hot Food run. This is the same wooden spoon that Hall cooked with as a child, never imagining that one day, it would help him reach one of his greatest achievements in life.
     In total, Culinary Team USA brought home with them three gold medals: One for each of their hot food and cold food programs, and of course, the medal that ranks them above all other countries in cold food.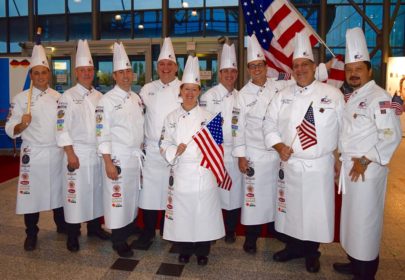 ---
***For a full list of team members, click here
---