You can expect TSA to go through your luggage and cooler. If you can expect it, you should prepare for it.
---
4. Zip Ties. You've zip tied your luggage closed to prevent it from popping open during travel but that zip tie's lifespan ends at security. TSA might re-secure your luggage with one of their own (less reliable) zip ties, but why chance it? Provide a new zip tie and a note to TSA inside your luggage as shown in the photo below. This works 99% of the time for me.
---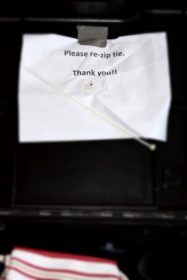 ---
5. Labeling. Label everything that may look suspicious. Dried herbs, TG, anything that might create concern during security checks. The last thing you want is for someone to open up your vacuum sealed ingredients to check on their integrity. Leave no room for questions.
6. Contact Sheet. Provide a contact sheet on your luggage. If there are any questions or concerns, this will make reaching you easier. This will also come in handy if your luggage gets lost and prevents others from mistaking your luggage for theirs.
---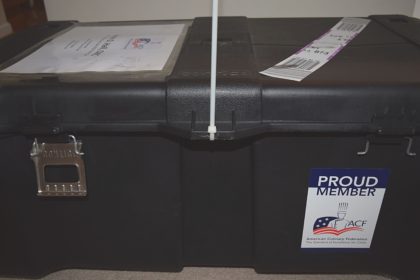 ---
7. Expect to lose your luggage. There is always a chance that your items could get lost so prepare for the worst. Pack everything as cold as possible and packaged as tight as possible. Your cooler should be packed with the intention of staying cold for 24-48 hours.
---
Review Packing For Competitions: Tips & Tricks (Pt1) Here
---
Continue to Packing for Competitions: Tips & Tricks (Pt3) Here