My journey to Team USA began in 2005, while working as Executive Chef at the Dunes Golf and Beach Club in Myrtle Beach, SC under David Shepler, CCM.
I was very actively competing at that time, and had the"competition bug" so to speak.  I, like most young chefs, traveled to as many possible competitions I could to gain experience, exposure and push myself creatively for something more.  When I saw the announcement that year to apply for the team, I sent in my application.  A few weeks later I received my acceptance letter to try out for the cold food portion, I had no idea what I was in for.  I practiced as much as I could; I had done around 6 platters at that point but never hot food presented cold, and was not as on the cutting edge of the level expected for this kind of tryout as the other potentials.
I worked hard, presented my food, received a certificate and some really great words of encouragement from Chef Joe Leonardi, CEC and Chef Scott Fetty, CEC who had been on the national team at that point.  I studied their work in the display room that day for a very long time, my food at that point didn't hold a candle to what the other chefs presented. I took good notes and went back to the club, not moving forward with the team at that time.
---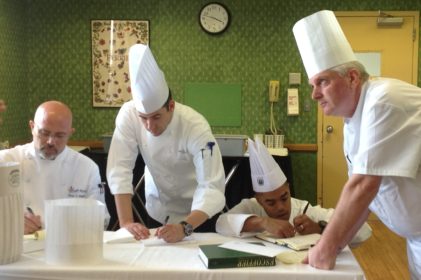 ---
I kept competing but put all this on pause, my new goal would be the CMC exam.  My mentor James Corwell, CMC, suggested I switch gears,  "Focus on fundamental and classical cooking, look at what other countries are doing and take the test.".
I would say at that point my journey to the exam began.. that is another story.
     6 years later in 2012 and at a new club I passed the exam, returned to the club and a new GM, his name was Jesse Thorpe, CCM.  We spent weeks catching up, talking every day and getting to know one another.  One day in his office he asked me what I wanted to do next.  I thought about this for a few minutes with no answer, because in one light I had reached my pinnacle goal in my career at age 36, I was for the first time since I could remember not working like crazy and enjoying life outside of work.  In the other light, the one that chefs can't stay away from, bored and looking for more, that constant search for perfection, much of which I focused on the club.
Then Mr. Thorpe said it, what would set the wheel spinning again in full motion.  "Have you ever thought about trying out for Culinary Team USA?"  That was it, that was the seed that grew in my head that I couldn't not think about.  I told him of my failed attempt in 2006, I asked if he and the club would support the goal, time away, extra work after hours, and he said absolutely.
The gears switched, I refocused, I used what I had learned and tried out again which was a success this time.  I have found some of my most valued friends, colleagues and mentors from being a part of the team, regardless of certification level you always have more to learn, you always have more to push for, you always have to keep proving yourself in this field to stay current and ahead of the curve.  One of my favorite quotes is "you must fail to succeed".  Failure pushes you, it changes you, it makes you hardened and it also opens you up to getting things right the next attempt.
---
---
I am proud to be a member of ACF Culinary Team USA 2016, I am proud to stand with my culinary brothers and sisters who also represent the team.  I learn from them in every interaction, every time we cook, and we have all the potential to go to IKA in 2016 and win.  We are fluid, forward thinking and set no boundaries; we operate as one equal unit of excellence in the culinary arts. "One Team, One Dream".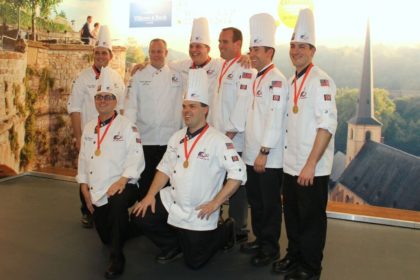 Meet All The Chefs on The Team