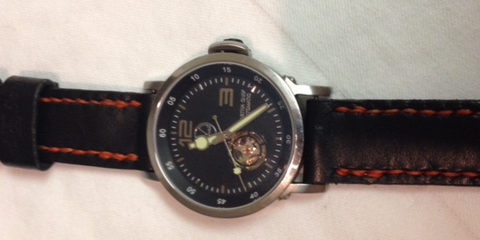 It was in 2008 that I first noticed an ad in The Culinary Review that would eventually strike up my relationship with Morpheus Fine Watches. The ad was for the original "Culinary" branded watch which featured stove knobs as it's crown, a thermometer themed alarm dial, a small aesthetic resembling a roasting pan handle and other familiar culinary pieces. I admired it immediately and held onto the ad until I found an incentive to purchase it. As I began looking forward to taking the CMC exam for the first time in 2010, I started thinking about how I wanted my image to be as professional as my cooking. I decided to add the watch to my collection a few months prior to the exam and wore it everywhere; every professional event, CMC assessment session, and through the first test in 2010. Although I did not pass the test on my first try, wearing the watch day by day reminded me of my goal and helped to keep that vision alive until I ultimately passed in 2012.
---
---
The band began to show the signs of culinary war and so I turned to my good friend and college roommate, Tom Stafford of Stafford and Sons Leather, to help recreate the original three hole design. While Tom began working a strong replica of the band, we had many conversations about the watch and how it was now a very strong part of me. Eventually, Tom reached out to James from Morpheus to discuss leather making.
During one of their discussions, Tom mentioned me and my recent CMC accomplishment. It was with much excitement that a few days later, James reached out to me and discussed his interest in all of the photos of me that featured the Culinary Watch. It never really occurred to me that the watch was featured in almost every photo of me cooking for the last 5 years; all the way into the ACF Culinary Team USA tryouts. James then asked me if I would like to be the "Culinary Ambassador" for this excellent time piece and I jumped at the opportunity.
---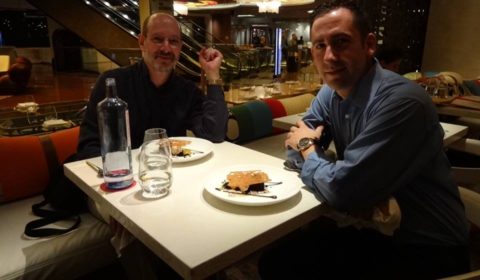 ---
This watch is more than a piece of wardrobe to me; It has gone through the trials, struggles, failures and accomplishments and hold countless memories and still more to a come.
It's a constant reminder of the time it takes to reach a particular goal.
I am proud to be associated with Morpheus Fine Watches. It is art transformed into unique and well crafted timepieces.
---
Explore the Morpheus Website:
Follow Morpheus on Facebook: