Friedr. Dick
Team USA Sponsor
---
Friedr. Dick is our team's knife sponsor. They have provided brand new complete knife kits to each chef on the team to practice and compete with. George and I did a demo with Friedr. Dick at Atlanta's Chef Connect conference to show the quality of the knives including their durability, lasting edge and outstanding legacy: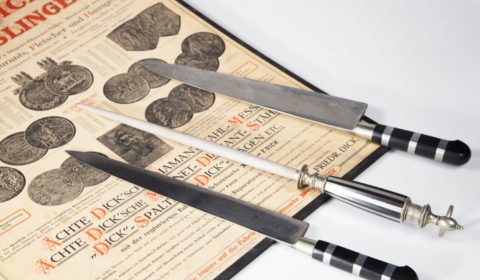 Friedr. Dick was founded in Esslingen, Germany, in 1778 and even today, more than 235 years later, the company is still a family-owned business. Friedr. Dick is the only global manufacturer to offer a complete range of knives, sharpening steels and tools for chefs and butchers as well as butcher's equipment and grinding machines. The long tradition and experience in manufacturing, the highest level of quality and optimum handling make Friedr. Dick the world's leading brand for passionate and quality-conscious chefs – both in the hobby and professional sectors.
All products manufactured by Friedr. Dick are distinguished by their sustainable design, well-thought-out functionality and highest level of quality. Our products are created in a sustainable manner using traditional manufacturing methods and state-of-the-art production technology. This gives them their high value. A workforce of 180 is employed at the company's headquarters in Deizisau, meeting the self-imposed high quality standards and continuing the longstanding tradition. The long tradition and many years of experience gained in the manufacture of products for chefs and butchers enable Friedr. Dick to continue to develop innovative new products. Input from customers, especially end users and our own ideas are converted into high quality products.
---
Learn More About The Friedr. Dick Collection
---
Follow Friedr. Dick on Facebook